Join Up on Meetup for Monthly Spiritual Gifts!

Meetup.com/The-Atlantean-Temple/
Spring 2014: The Gifts of the Year Begin!
This Page includes Information on

Atlantean Temple with Skydin Zeal on May 21st
(Last Event till October)
Skydin Zeal's Participation in
The New Life Expo, May 30th, 31st & June 1st
The Edgar Cayce Center's Psychic & Healing Fair on May 24th  
April's Exclusive Spiritual Advice!
Skydin Zeal's Participation in other Spiritual Fairs as well!
A Word on Our Events

As always we encourage you to Experience us both intellectually and More Importantly Spiritually! Spiritual Power is transmitted in many ways. Skydin Zeal following direction of his Guardian Spirits, Archangels, Gods & Goddesses is on a Mission to Empower those who Seek his Guidance. Whether it be through making you laugh with witty, often zany anecdotes or through inspiring you through stories of great battles on other planets in other lifetimes – Expect to Expand your Experiences! And even if you don't, you will!

Atlantean Temple with Skydin Zeal
is on Friday Evening April 18th 2014

The Focus of This Event is Astral Travel and will include
The Atlantean Temple Foundations!
 Norse Yogic Techniques, Purification of Negative Energy, Readings & Channeled Wisdom For Everyone!  As well a Look at How you've Utilized The Norse Sigils for Healing & Psychic Self Defense that we worked with earlier this Month!
6:30 p.m. – 9:30 p.m. at The Edgar Cayce Center, NYC RSVP E-mail to ensure your seat!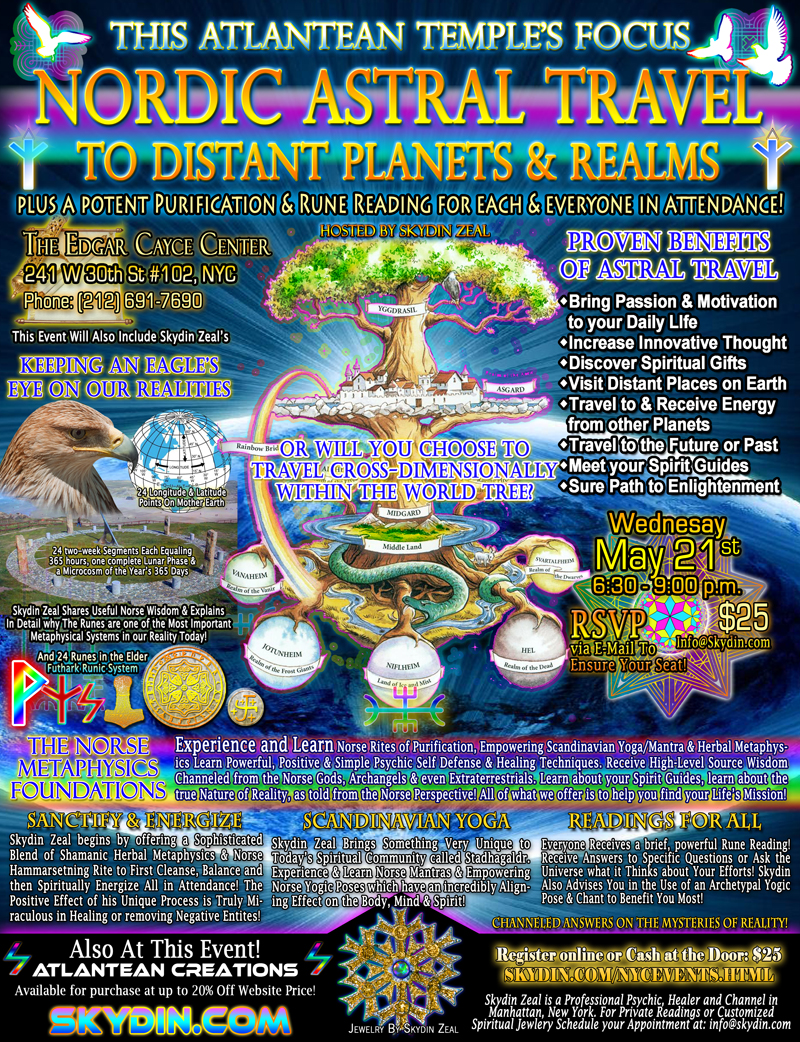 Norse Psychic Self Defense & Healing Level 2 May 2014
At the Edgar Cayce Center, New York
Make True Sense of All of the Events that Make Up Your Life With the Ancient Norse Perspective!
So accurate is our System that it Completely, Literally & Powerfully Defines All Aspects of Our Lives, Especially as Americans!
Skydin Zeal's Explanation has been Considered Instrumental in Living the Optimal Life & Avoiding all of the Vices of Earth Life!

So if the Ancient Norse Perspective is what shapes your life more than anything else, the life which by the Way You Create Every Day, then why do we know so little about it?

Skydin Zeal will Answer these Questions & Many More You will also Learn old Norse Yoga: The 24 Archetypal Poses and chants that are spoken by the Universe – the Fragments of the Gods and Goddesses who created all our Languages! It's all here, it's in your ever day life and it's all in the Runes! Discover Viking Shamanism in a truly new way, with Skydin Zeal, The Peaceful Warrior!

In this Three Hour Workshop you will also Benefit from Skydin Zeal's Many Years of Experience in Herbal Purification. A rich bouquet of 20+ Herbs prepared before the event to heal or remove any Negative Energies or experiences that have troubled you, so you can begin anew!

Each Month we will also cover topics such as Positive Psychic Self Defense, with understanding and love for all of reality! You will Learn Norse Metaphysical Techniques to Sanctify your Living Space or Work Environment. And one of our Special Fields: Astral Projection to contact Higher Realms & Distant Planets and Effective Help from Guardian Spirits! No Atlantean Temple event would be complete without some discussion on Extraterrestrials, and Skydin Zeal can help you contact them! The kind that are Attracted to Positive Thoughts of Course!

Readings for Everyone in Attendance: Everyone receives a brief powerful Rune Reading! Skydin answers one question and instructs you in the use of an archetypal Symbol that will personally benefit you best!

Skydin Zeal has 11 Years Experience in New York's Spiritual Community as a Public Speaker and leader of events, Clairvoyant Channel/Psychic, Designer of Metaphysical Jewelry, Clothing and Interior Design!

Questions & Answers
Skydin Zeal is a Claircognizant channel and will be able to answer your esoteric questions, from the upmost intellectual to intuitive.

RSVP is Strongly Encouraged! Reserve your Seat via e-mail, and feel free to bring a friend! info@skydin.com

Cost: $25 register on our website http://skydin.com/nycevents.html or cash at the door. Members of the Edgar Cayce Center: $20
Location: The Edgar Cayce Center for Research & Enlightenment is Located at 241 West 30th St. #102, 212-691-7690
Keeping an Eagle's Eye on Our Realities

For Everyone Joining us For this month's Event: Please put together a simple outline of how the past four weeks were for you, in terms of positive or negative days.  Skydin Zeal, with his Runic Calendar will make sense of it and give you Metaphysically Energized advice on why things were the way they were and how you can prevent or improve circumstances – This is Real, Effective Spiritual Wisdom, not just theory!
Simple Instructions from God

Create, Be Happy and Encourage Others to Create and Be Happy.
Further Instructions will be Delivered Upon Completion of this First Task.

It should be noted that while the above quotation is Skydin Zeal's sentiment, if you seek him for a healing, exorcism or reading he will help you! This is because he is sworn to the Universe to be honest and effective whenever money and faith is involved. Also our belief is that we should all rescue one another moments before annihilation, not a moment sooner however. That's a bit of a joke – or is it?
A clip from one of our Earlierer Events
Remember, Runic magic is the power of the Sun, the Source, and deals with how that energy reaches us, is stored within us, and is sent into objects or other people. There is no life without Light, and all Light comes from the Sun. The only reason why the food you eat gives you energy is because that matter received the Sun's energy at some point in the chain. If the world were to simply practice safe solar gazing, all misalignment and dis-ease would simply be filtered out of them naturally, quickly and easily without all the hard "spiritual work" most think is intrinsically necessary to evolve here on earth. We are meant to be joyous and alive, and life is not supposed to be about the challenge in reaching that, life is supposed to be where we go and what we experience when we are in that perfect alignment!